Expeditions in Ladakh
For more than a decade, we have been actively involved in the safe rendering of adventure lovers to the most exhilarating adventure sports with experienced mountain guides, cooks and ponymen. Our emphasis is to provide you a crew with expertise and and teamwork, even we can accompany beginner to climb above 6000mtrs with in a week.
We also provide base camp management where all transportation, porters and ponies and logistic support is being provided for climbing expedition in and around Ladakh. The climbing season in Ladakh extends from May to mid October, the ideal period being from June to September because it is during this time that Ladakh remains unaffected by the monsoon, which holds sway over most of the Himalayas.
Stok Kangri Expedition
Highest point: : Stok Kangri summit (6150mtrs.)
Season: June to mid September
Grade: Hard
Duration: 6-7 Days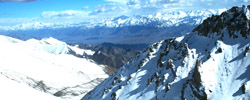 Stok Kangri is a perfect objective for amateur climbers to climb above 6000mtrs in a short span of time. You can always have a view of this beautiful peak from Leh town. Once you are at the summit you can see the amazing views of the Saser Kangri (7670mtrs) in the Karakuram Range, Kang Yatse 6400mtrs and Nun Kun (7150mtrs).
For more information regarding day by day Itinerary please e-mail us at: info@adventurestrek.com, info@zanskarladakhtrekking.com
Kang Yartse Expedition
Highest point: Kang Yatse (6400mtrs.)
Season: June - September
Grade: Hard
Duration: 11-13 days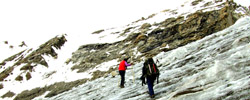 Kang Yangtse lies to the south east of Leh and it is situated in Markha valley on the top of Nimalinhg Pleateau. This beautiful peak is a desire for all the trekkers doing the Markha valley, as they are always a glimpse of this outstanding peak while there. Actually there are two peaks one is easy and non-technical 6200mtrs high, and the other one is quite technical 6400mtrs high. Though there are many options for this summit, but the best way is to do it with the Markha valley trek6-7 day's acclimatisation trek from Spituk to Hankar 4-5 days to reach up to summit and back camp and 2-3 days from base to Nimaling and than to Shang Sumdo via Gongmarula 5105mtrs.